LED Outdoor Garden Solar
Don't Pay an Electrician Thousands:
These Solar Lights are More Convenient, Don't Require Maintenance, and are Dead-Easy to Install…
Installing outdoor lights can be so difficult and frustrating that most Americans just give up.

But if you read this page all the way until the end, you'll discover the super-simple way to transform your home… without spending thousands or having to get a degree as an electrical engineer.

Millions of Americans choose to live with a dark and boring yard because they're so overwhelmed that they're afraid to make the wrong choice when it comes to lighting.

Others try every some lights from the store… and they end up with ugly wires running through their yard…

… raised electricity bills from them needing power all night …

… or ones that just simply don't make their home look good..
Most Americans believe they need wired lights to get the brightness they want for their yard. But that's not true.

Solar lights can give your home the brightness it needs to look jaw-dropping every night.

Just like Sharon V., who says, "I have these and they put out a lot of light. If you lose power, bring several in and light up the house. Works great.".

Or like Helen S., who wrote, "Uber bright and long lasting. They don't stick up and ask to get smashed!".
Why Solar Lights can
Make Your Home Look Gorgeous Every Night
What are your options when it comes to lighting up those dark spots around your home?

From what we've seen, you have 3 options:
Just pick the spots around your home you want to light up. Then grab your Bright Right light, flip the switch at the bottom, and place it on that spot. If you want, you can use the stake to keep it in place. During the day, the solar panel will start charging the batteries… so at night…

Your home gets lit up and beautified… making it look like the end result of one of those home makeover TV shows
Color: white/Warm White/Warm
Solar panel: 2 V
Battery: 600 MAH NI-MH batteries
Waterproof level: IP65
Charging time: 6-8 hours
Working time: 8-10 hours
Solar panel diameter: 4.7 in
Item size: 4.7 * 5 in
Package size: 5*5*5 in
Material: Stainless steel & ABS
Attention:
1.Ensure that all lights are switched to ON position before installing. Please ensure the lamps are switched on before take them out to gather solar energy.
2.Install the light in a solar illuminated area to ensure a full battery charging during daylight.
3. If the light does not work at the first time you use, please turn on the light and then put it under the sun for 6-10 hours.
4. The more sunlight solar pathway lights gets during the daytime, the longer and brighter the solar powered led lights will shine at night.
solar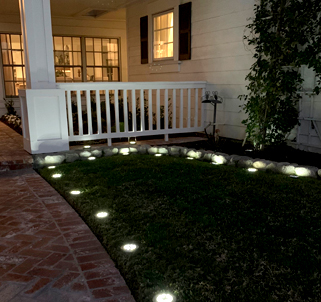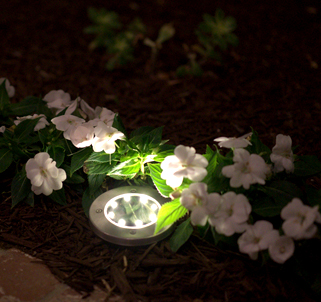 Make Your Home Look Years Newer: In just a few minutes you can upgrade your home to look years newer.. Filling your yard with ultra-modern LED light highlights your home's features.
Stop Tripping on Dark Pathways: No more tripping, falling and getting injured. LED lights will guide the way and keep your family and guest safe.
Weather-Proof: You don't have to run outside and grab Bright Right™ when it starts to rain.. They are engineered to withstand the elements including rain & hail!
Solar Powered: During the day harnesses the suns energy using its super-efficient solar panel. Then when night comes it automatically turns on using dusk-to-dawn technology.
Super Easy to Install: No complicated wiring or annoying battery replacements. Just set down or attach the stake to stick it into the dirt or grass. Then enjoy fascinating LED light at night.
Trusted by Thousands of Homeowners: A dark yard can really drag down the look and feel of your home. That's why thousands of homeowners across the country are raving about Bright Right™ upgrading their home.
light garden led solar outdoor led garden lighting solar light pathway led solar light outdoor lighting led solar light garden led solar pathway light led garden solar lamp solar light led garden lights solar garden led solar lamp garden Outdoor solar led Solar lamp for garden OUTDOOR SOLAR LED LIGHT outdoor solar led lamp garden lights solar garden lighting on solar energy solar powered fountain outdoor solar garland OUTDOOR SOLAR LED LIGHT
If you're not fully satisfied, please fill in our
contact us form
and we'll quickly work to correct the problem.